26 students and 2 teachers from Springfield Secondary School flew to the land of morning calm to have a taste of taekwondo in Korea.
They, accompanied by the school taekwondo coaches – Tan Cheng Hui and Joyce Lim, spent six days from 18 to 23 November 2010 in Seoul expanding their knowledge of the sport. And the trip turned out to be an unforgettable experience for them.
The group's first destination was the International Kumgang Taekwondo Centre where they were treated to an awe-inspiring demonstration by students of Master An Byeong Cheol. That put the Springfield students in a mood to learn more of the 'tricks of the trade'. But it was hard work. Master An put them through a punishing training session which brought them aches and pains the next day.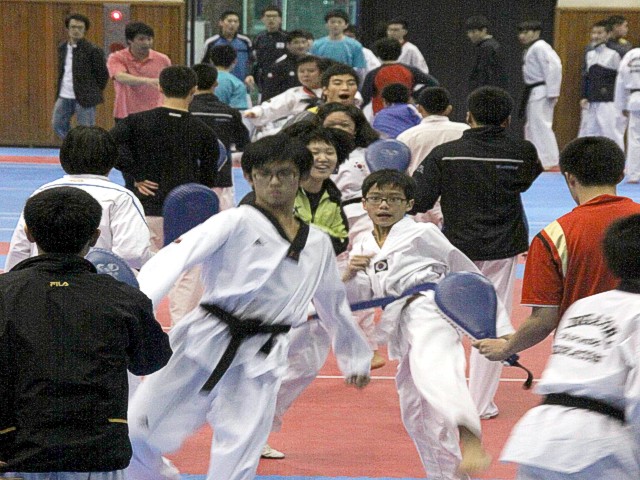 But they were not deterred. Like true warriors continued their journey. Their next stop was the Bucheon Information Industry High School where they got to experience the taekwondo program offered in the Korean schools. They trained with the High School students and found the session to be very tough. However, they managed to keep pace with their counterparts.
Dion Tan, 2010 Inter-School Kyorugi and Poomsae champion said: "We actually enjoyed the grueling training. I think it would be good for such training to be adopted in schools as it would help toughen our boys and girls mentally."
The session at the High School ended with a photo and sharing sessions for the students of both schools. It was quite educational for the students as they learned more about each other's culture.

Moving on, the group visited the gymnasium of the world renowned Korean Tigers. The students were allowed to join in the training. And they relished every minute of it although they were struggling to keep up with the Tigers. The warm-up alone took one hour! It was certainly tiring for the students but they were not complaining.
At the end of the session, the Tigers showed off their skills by give a short but spectacular demonstration. In appreciation of their hospitality, Joyce and two students entertained them with a taekwondo aerobic dance performance. Following which, the students took lots of pictures with their favorite Tigers.
Said Tan Xue Ying, the group captain, "I must thank Springfield Secondary School for the exposure. After acquiring so many invaluable lessons from the trip, I realize that it is indeed a privilege to be a student of the school. All the students who went for the training are indeed lucky!"