Five members of Singapore Taekwondo Federation were recognized by the Taekwondo Hall of Fame for their involvement in the sport.
They were Mr Milan Kwee, Mr Teh Kim Soon, Mr Dick Goi, Mr Steven Soh and Ms Wong Liang Ming.The Taekwondo Hall of Fame is an international organization of technical advisors who are themselves member of the World Taekwondo Federation, International Taekwon-Do Federation, Global Taekwondo Federation and other major international taekwondo institutions.
The Singaporeans, identified by the Hall of Fame advisors, received their awards in a ceremony held on 25 August 2011 at Kukkiwon, Seoul Korea. That was the third awards ceremony and the first held outside USA. The first was held on 6 April 2007 in USA and the second was conducted on 10 April 2009 in Teaneck, New Jersey.
While Mr Teh, Mr Goi and Mr Soh were given a citation in recognition of their participation in the 1st World Taekwondo Championships in 1973, STF President, Mr Kwee, who was also with the team was inducted into the Hall of Fame for Leadership and Lifetime Achievement.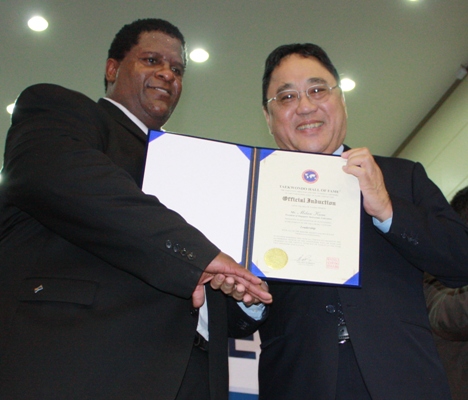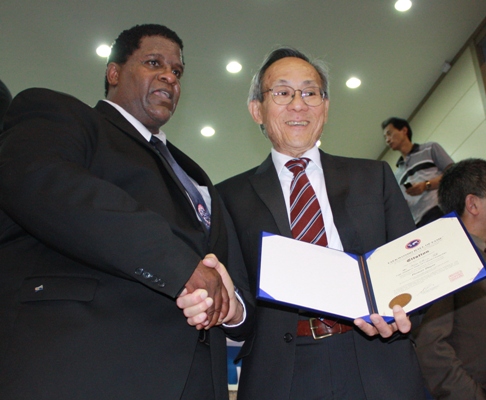 Ms Wong was also inducted in recognition of her outstanding athletic career which saw her win, among other titles, 4 gold medals in the SEA Games and 2 silver medals in the Asian Championships.
The awardees, grandmasters, leaders and champions, came from more than 25 countries and included Olympic and 4-time World Champion, Kuk Hyun Jeong.
The presentation of awards was preceded by an exhilarating and dazzling demonstration by the elite US Army 2nd Division Taekwondo Demonstration Team. And the event ended with a banquet at Samjung Hotel, about 10-minute walk from Kukkiwon.