Singapore finished 8th out of 21 Asian countries which participated in 2nd Asian Taekwondo Poomsae Championships held on 5 May 2012 in Ho Chi Minh City in Vietnam. As expected, Korea, Vietnam and Iran took the top three places.
Sending a team of 6 players – Sherman Wee Li Sheng, Joyce Lim Soon Yi, Linda Sim Ee Guay, Ng Lee Noi, Tan Cheng Hui and Wong Liang Ming, Singapore netted two bronze medals in the pair and team events.  Their efforts were good enough for Singapore to earn the credible placing.
The placing would have been better if Joyce who entered the final twice, once in the individual event and another in the pair competition managed to give a medal-winning show.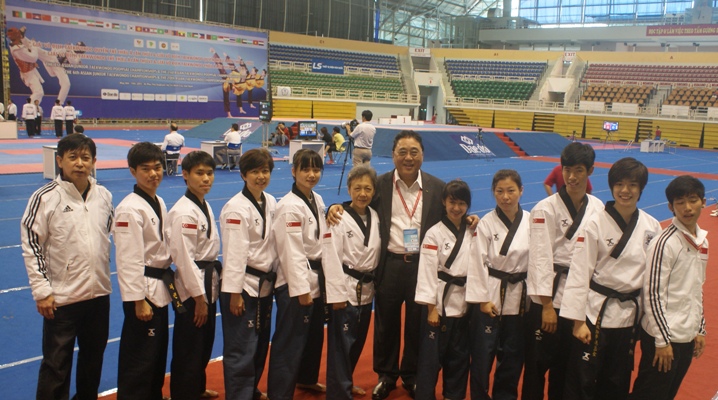 However, Singapore two junior performers who competed a day earlier in the 1st Asian Junior Poomsae Championships were not able to get their names in the medal lists.
While Chelsea Sim slipped during her performance, Kang Rui Jie earned a place in the final by finishing third after impressing the judges with his fluid and powerful routine. In the final, Rui Jie could not produce the same performance and found his name missing from the top four.
Rui Jie and Chelsea went on to team up for the pair event. They got into the final but had to be contented with their 7th placing.
Singapore also participated in the kyorugi events which were staged after the poomsae competition from 6 to 11 May 2012. Fighting against world-class players, they gave of their best but it was not enough for them to return home with something to show for their efforts.
The kyorugi team comprised the following.
Chew Kai Jun
Daniele Aidan Tan
Jason Tan Junwei
Vincent Lim Hong Bin
Muhammad Norhalim
Raja Zulfadli