It was the grandest celebration ever for the anniversary of the Singapore Taekwondo Federation (STF) which was founded in 1974.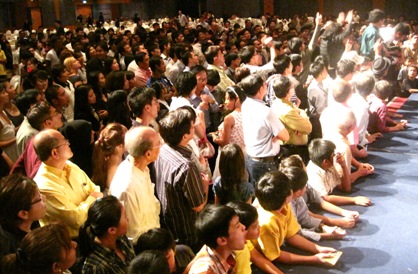 More than one thousand and fifty people from the Embassy of the Republic of Korea, the Singapore Sports Council, the Singapore National Olympic Council, the taekwondo fraternity and other friends of taekwondo attended the function which was organized on 19 June 2010 at Suntec Singapore Ballroom (1-3).
The road closure for the National Day Parade 2010 Rehearsal, which was held at the Padang, threatened to delay the start of the function. But as it turned out, the event commenced almost punctually at 7.35pm with the grand entrance of the VVIPs led by the guest of honor, HE Mr Oh Joon, Ambassador of the Republic of Korea and his charming wife.
After they settled down, Organizing Chairman Steven Soh gave a brief welcome speech followed by an address by STF President Milan Kwee.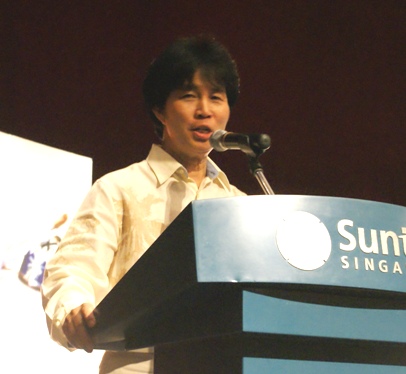 Mr Kwee said that the STF was blessed with the unstinting support of many well-wishers. As an example, he pointed out the generous donations of $15,000 each from Mr Kris Wiluan (President of Asean Taekwondo Federation, Patron of STF and Director of Inter-Premium Corporation Pte Ltd) and Mr Lawrence Leow (Patron of STF and Chairman & CEO of Crescendas Group).
He went on to thank His Excellency and all the distinguished guests for gracing the occasion. He also registered his appreciation to all advertisers, prize donors and all those who had made the event possible.
In his speech following Mr Kwee's address, HE Mr Oh Joon said: "I look around this ballroom. It seems to me that every practitioner and friend of taekwondo in Singapore has turned out in full force here to celebrate yet another remarkable year of sporting achievement by the STF."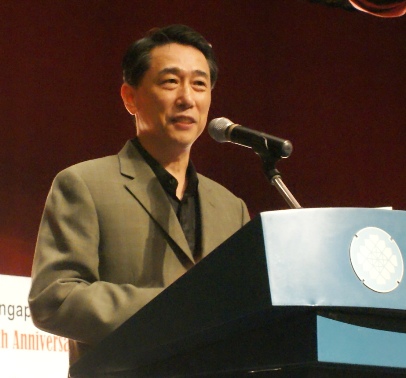 He went on to congratulate the STF on its achievements in enhancing the image of the sport both within Singapore and internationally and compliment the organization for working so hard to broaden the appeal, improve the standards and raise the profile of taekwondo.
The program for the evening continued with the presentation of certificates of appreciation and recognition. The list of awardees is attached.
After the formalities, the mood changed with food, fun and drinks. There were lots of entertainment, games and prizes. For entertainment, besides a stunning demonstration by the National Demonstration Team, the national 'kyorugi' players showed that they 'Got Other Talent'. While the girls impressed the audience with their dance routine, the boys brought the house down with their impression of the Michael Jackson and the Wonder Girls.

When it was time to go, some of the guests found it hard to leave. They enjoyed themselves so much that they wanted more.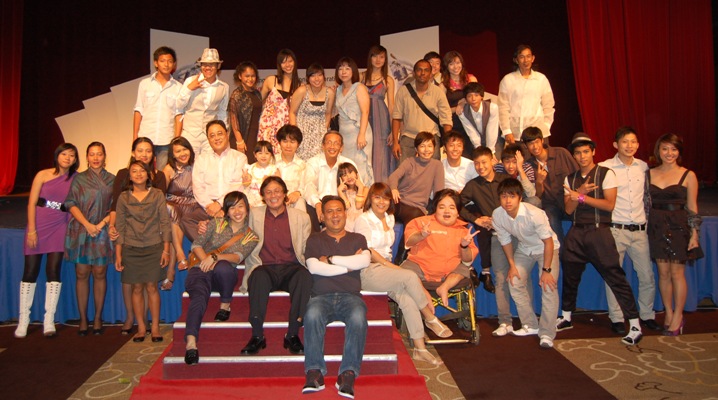 Ronnie Yap from Induk Taekwondo said it best: "It was a well organized event. We were glad that we did not miss it." He and his group indeed had a rollicking time and so had many others.
The STF had received numerous requests for the event to be held annually. To support the suggestion, William Ong from Bukit Timah CC said: "It gives us the opportunity to let our hair down, have fun and renew our friendship with fellow taekwondo members whom we have not met for a long time."