Players from the national training squad and their ardent supporters, their parents and siblings, congregated on 21 December 2007 at the National Training Centre. They were there not to compete for a place in the national team but to have fun.
The event: Annual X'mas Gathering.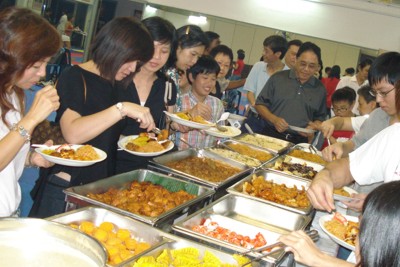 The function was for members of the national training squad and their families. Its primary objective was to provide an opportunity for participants to interact and strengthen their bond of friendship in a social environment. This is part of the Singapore Taekwondo Federation's strategy to develop team spirit among its members and their families.
Said Mr Milan Kwee, President of the Federation, in his brief address: "I am delighted to see members of different clubs coming together for the function."
He added: "I wish to see more parents helping the Parents' Committee headed by Mr. Darren Tang. By helping the Committee, you are contributing to the development of the sport and the Federation."
While the children were enjoying themselves playing games, watching movies, exchanging gifts, their parents were busy engaging in small talks. The only time they were one was when they dig into the food. Some of the food was specially cooked by members' parents. The others were sponsored by the Parents' Committee and the Federation.
Adding to the festive mood, Mrs Cindy Tan sportingly acted as Santarina. Everybody evidently had a great time!