The Singapore Taekwondo Federation (STF) and Temasek Polytechnic (TP) jointly conducted a successful Taekwondo CCA sharing session on Saturday 13 September 2014. TP hosted the session at its newly open TP Sports and Arts Centre Facilitation Room.
Participants included taekwondo members, teachers and parents.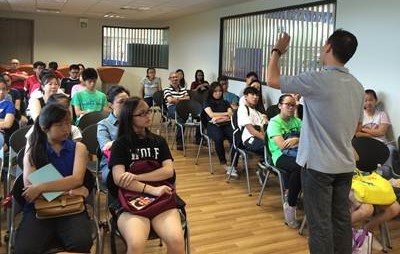 Mr Kyle Lim, TP Deputy Director (SAA), gave an informative and comprehensive talk on the CCA Talents/TP Courses which had helped to give our members, teachers and parents a clearer understanding of the admission exerices and schemes to TP.
After the session, the participants were given a short tour of the Sports and Arts Centre.
Kylynn Goh, one of our national junior athletes, was so impressed with the courses offered and facilities, has targetted to secure a place in TP. But first, she said, "I will have to do well in my exams!".
The STF plans to conduct the joint session annually with TP.