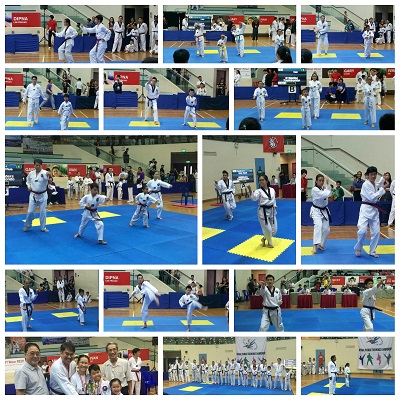 "Families that play together stay together," as the saying goes. However, there are more to staying together when playing together.
Families participating in the National Taekwondo Poomsae Championships 2015 staged on 25 and 26 July 2015 at Toa Payoh Sports Hall realize the power of taekwondo in not only strengthening the family bonds but also revealing the qualities of family members. What's more, it provides them opportunities to spend delightful and memorable quality time together.
Here is what some of them say.
"The family event had provided us with the opportunity to learn how to compromise and adapt to each other differences." – Sng Li Hoon
"As a father, it is indeed reassuring for me to watch my children working hard together towards a shared goal and always demonstrating care and concern for each other." – Song Jeong Ho
"The time that we trained together was a unique and fun way of bonding." – Mandy Sng
"(My brother) gave me a sense of confidence …" – Darren Yap
"There are not many years of early childhood opportunities for father and son bonding amidst the rigours of work and school." – Victor Choo
The Singapore Taekwondo Federation will feature in 4 weekly installments, beginning on Monday 10 August 2015, the inspiring stories shared by some of the champions in the family events.