Jason Tan Junwei was conferred Temasek Polytechnic Sportsperson of the Year at the CCA Awards 2011.
The award was to recognize his achievements as an athlete and student.
As an athlete Jason had won numerous titles for Temasek Polytechnic. These included the NTU Taekwondo Open 2010, the inaugural Polytechnic-ITE Taekwondo Invitational Championships 2011 and the National Poomsae Championships 2010.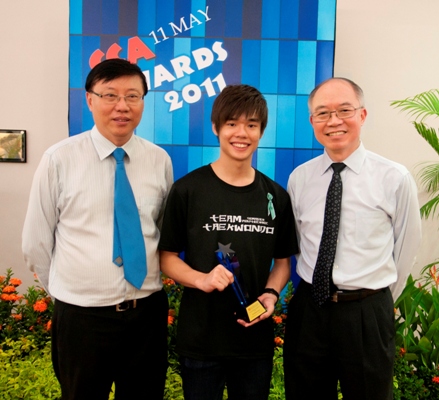 Outside the arena, Jason did well in a demanding curriculum in the Temasek Design School's Diploma in Retail & Hospitality Design.
Jason said, "I am pleased that my accomplishments have been recognized by my school.
"My achievements were possible because I have caring parents, excellent teachers and coaches and supportive friends not only in Temasek Polytechnic but also in the STF and my club. From the bottom of my heart, I thank all of them for being so kind to me."
(Photographs courtesy of Mr Darren Tan, Temasek Polytechnic)