The Singapore Taekwondo Federation (STF) and the Tampines North CC met on 5 October to develop a new scheme for junior players.  It gave birth to the STF-Tampines North Training Scheme.  
The scheme with the primary objective of nurturing young talents available in the Tampines North constituency was launched on 16 December 2006. It attracted 30 participants. After four weeks into the scheme, the number increased to 55. This certainly augurs well for the scheme.
Two sisters, Charlotte and Tessa Tang, were among those selected for the scheme.  They were picked because of their achievements in the recent National Championships and other competitions.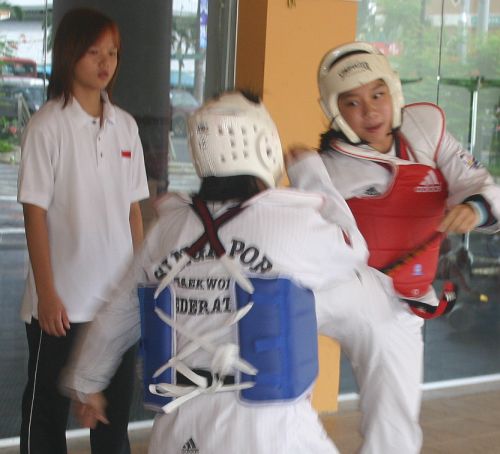 Their father, Mr Darren Tang, said: "The training is beneficial to not only the participants but also the STF. It allows the organisation to spot the next generation of players.
"I am glad that the scheme is especially for young talents."
The scheme is still open to any taekwondo exponents who have aspirations to represent Singapore in future. They must be residents of Tampines GRC and members of clubs affiliated to the STF.
Anyone who qualifies and is interested in joining the scheme may contact Mr Lim Keng Leong, the co-ordinator and coach of the the scheme, at 90288219.