The Singapore Taekwondo Federation (STF) Taekwondo Day held on 15 February 2008 at the National Training Centre was celebrated by more than 120 trainees, parents, coaches and officials. The event was graced by Prof Tan Cheng Han, STF Advisor, and Mr Ho Mun Wai, Singapore Sports Council Director (Planning & Portfolio Management).
After the a brief welcoming speech by STF President Milan Kwee and an equally brief speech by Prof Tan, the party was 'blasted off by Prof Tan, Mr Ho and Mr Kwee. It was followed by the traditional 'lo hei' which was in keeping with the Lunar New Year festive spirit.
There was a lot of fun and games.  Prizes were given out to everyone sporting enough to participate in the activities.
There were also Valentine's Day gift exchange amongst the younger generation.
Talking about sporting, the organizers took their hats off for the parents.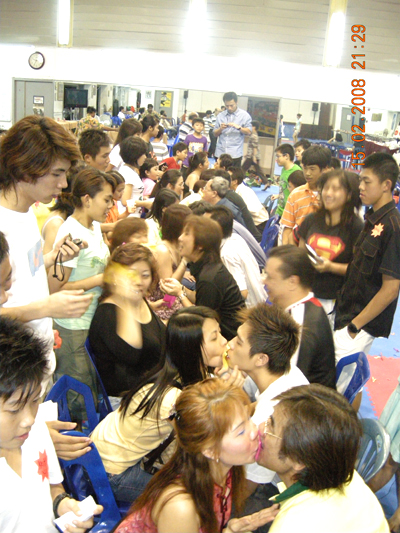 They participated in numerous games and enjoyed themselves too. It was wonderful to see so much joy in one place.

When it was time to call it a day, everyone including the parents helped to tidy up the place and clear the trash. It gave the feeling of a family party where everyone had fun and chipped in to help when required.
In short, the STF Taekwondo Day was a memorable family day to all who had participated in the event.

(Photographs courtesy of Mr Dicky Ong)