Four Korean instructors were dispatched to Singapore on 23 January 2010 under the World Taekwondo Federation. They were members of the Peace Corps whose primary functions are to promote taekwondo and peace.
Since their arrival more than a week ago, they had been kept busy teaching taekwondo, attending a briefing on the development of taekwondo in Singapore and visiting local clubs and tourist attractions.
The national training squad had benefited from the instructions of Mr Sohn Dong Wan, Mr Lee Geon Hee, Miss Hong In Jeong and Miss Eum Se Jin. They had been teaching them not only some interesting techniques but also exciting taekwon-aerobics movements. Members of the squad were enjoying the training.
On Sunday 31 January 2010, they conducted a training session for TEAMgOLD members. Self-defence and taekwon-aerobics were the focus of the session. Although some of the members were skeptical about the effectiveness of the self-defence techniques, they all practiced them with enthusiasm. What's more, they had fun doing the aerobics movements.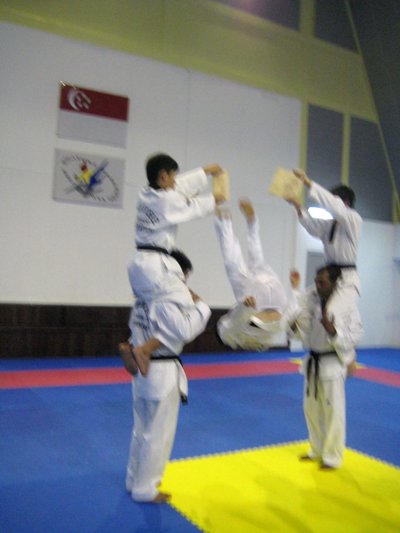 The Koreans visited STF office on Tuesday 2 February 2010. They were briefed on taekwondo in Singapore and the direction the Singapore Taekwondo Federation (STF) would be taking in the development of the sport.
Said Mr Sohn: "I am pleasantly surprised with how the STF plans to bring the sport forward. It is indeed innovative."

On the same day, they met Mr Lim SangJun, Director, Press and Culture, of the Embassy of the Republic of Korea and visited Hyun Taekwondo Academy. At the Academy, Mr Lim Hyun took them for a tour of his gymnasium and explained to them his teaching philosophy.
All club leaders and coaches can meet the four Korean instructors and see them in action at the National Training Centre (Whampoa) on Thursday 11 February 2010 at 7pm during the STF gathering.