The 3rd National Taekwondo Poomsae Championships held on 14 June 2009 at Yishun Sports Hall proved to be a record breaking event.
It attracted almost 1,200 participants. The youngest was 5 years old and the oldest 69 years old. For the first championships in 2007, more than 200 signed up for the event. Last year, the number doubled to more than 400.
While the organizers were delighted with the overwhelming response, they were concerned with the timing. It would take a minimum of 20 hours to complete the competition – that is, the event starting at 9am would end at 5am the next day.
An emergency meeting was called to consider various alternatives. The most popular solution was to hold the event over two days. But it could not be done because the hall was not available the day before or the next weekend.
The organizers decided to use six courts instead of the original and usual plan of three courts for the competition. This led to another problem: Would there be 30 poomsae referees available for that day? In view of the various challenges, the rules were modified.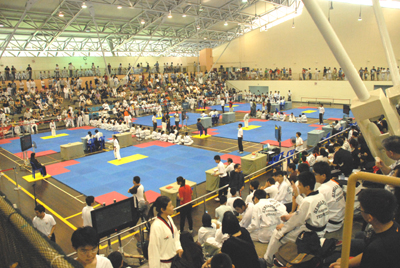 The STF was grateful to all club leaders, team managers, coaches and participants for accepting the modifications and co-operating with the organizers to make the event a success. The championships saw performers giving of their best to bring honors for the clubs, coaches supporting and congratulating one another for the outstanding results of their participants and the judges ensuring that deserving participants finish among the medalists. The standard of performance and sportsmanship was simply outstanding.
The STF would like to put on record its thanks to all parents, club leaders, coaches, volunteers and participants for their support, understanding and patience.
Prof Tan Cheng Han, STF Advisor, gave away the following awards.
Best Coach                : Lai Han Seng (J H Kim TKD)

Best Performer          : Soh Qian Yi (Acme TKD)

Fighting Spirit : Karen Lim (Shota) and Ng Wei Hau (Assisi)
Active Participation : St Teresa Taekwondo
The other results are attached.