On 17 June 2009, a team from Batam visited the National Training Centre (NTC) for training. The team, comprising junior belt holders aged 5 to 12, was led by Siaw Lung, the Chief Coach of the team and one of the top instructors in Batam.
After a brief introduction, the visiting players, some of them accompanied by their parents, began training under the guidance of the national squad members. The Batam players might be young and junior but they displayed potential with their natural movements.
Said Ms Wong Liang Ming, the national coach, "I am surprised that they can kick so well. They have the makings of future champions. If they continue training, I am sure at least one of them will make it to the Indonesian national team."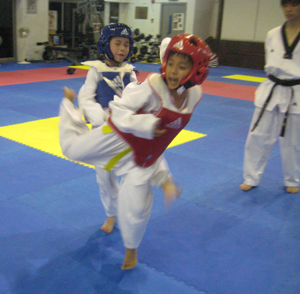 The youngest player, a 5-year old, who was only a yellow belt could already perform a decent reverse kick. During sparring, some of the older boys showed guts taking on our experienced junior tournament players.
At the end of the training, the visiting team was treated to pizzas. They certainly relished the food as they had to replace loss calories.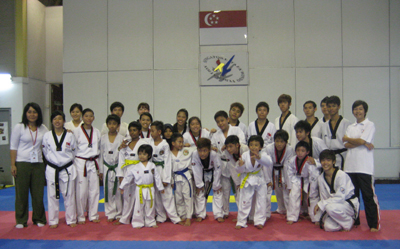 Before they left, souvenirs were presented to them to commemorate their visit to the NTC.