The 2010 National Kyorugi Championships organized over four days – 4, 5, 11 and 12 September – were a resounding success. The event which was smoothly and safely conducted saw a participation of over 700 players representing 47 clubs.
The players, whose ages ranged from 5 (Abraham Ang Yi Wei from Bukit Panjang CC) to 53 (Bong Peng Luck from TEAMgOLD) years old, showed a lot of spirit, enthusiasm and sportsmanship. They excited the evidently partisan crowd which added to the tensed but fun atmosphere.
Said STF President Milan Kwee at the end of the competition: "It was like a carnival. You could see everyone enjoying themselves. I reckon it is the best championships ever."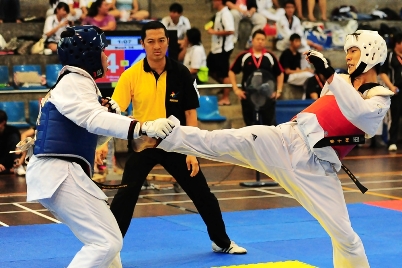 The STF President was spot on. Many supporters in cheerful mood came in different colored uniforms ready to turn the event into a carnival. They enhanced the decorations by draping the railings with their club banners and flags which came in various sizes and designs. Some were well prepared with their 'picnic' baskets.
It certainly made everyone feel good to see the players giving of their all to win honors for their clubs; the coaches digging deep into their bags of tactics to give their players their best guidance; the team mangers and the players' parents ensuring that the 'gladiators' had sufficient calories to fulfill their 'mission' and the crowd egging the players on with their raucous support, never mind some of them were 'fighting' a loss cause.
There was hardly any quiet moment. The spectators simply shouted themselves hoarse while rooting for their players. Whenever there was a countdown followed by loud cheers, you could be sure that it was a match which had them on tenterhooks. They seemed not mind as they were evidently enjoying it!
After the last match of the championships were decided, Acme Taekwondo took home the overall title with 29 gold, 19 silver and 16 bronze medals followed by J H Kim HQ with 19 gold, 3 silver and 11 bronze medals, Team Aljunied with 15 gold, 16 silver and 12 bronze medals, Sports Connective with 12 gold, 3 silver and 6 bronze medals and Cheng San CC with 10 gold, 5 silver and 10 bronze medals.
The most prestigious 'Sportsmanship and Fair Play' award went to Chan Kok Peng of Sports Connective. It is a special award to recognize the display of the taekwondo values which the Singapore Taekwondo Federation is encouraging and promoting.
Chan demonstrated how players are expected to conduct themselves by applauding his opponent for a well executed technique and giving his opponent a helping hand to recover from a fall and more while doing his best to overcome a strong challenge from his opponent.
He also brought to the attention of the officials when he sensed something was wrong with the scoring system which put the opposition at a disadvantage. His exemplary behavior set a standard for others to emulate.
The other award winners and all the results are attached.
The STF would like to put on record its thanks to this year's organizing chairman Tay Xiong Sheng and his committee for a job well done.
(Photographs courtesy of Mr Eric Lim.)