11 champions were produced at the Koko Krunch Junior Taekwondo Championships graced by Mr
Lim Biow Chuan, MP for Mountbatten, as the Guest of Honor and sponsored by
Nestle Koko Krunch.
And each of winners could be considered a record holder. Why not? They were the first champions in the Singaporeleg of the competition which was the inaugural edition. In the past, only Malaysian states were involved in the tournament which kicked off in 2006.
The competition staged on Sunday 28 April 2013 was as electrifying as it was entertaining. It saw players aged from 7 to 12 years old
using their entire arsenal of kicks and punches to get to the top. Exchanges were fast and furious. It was matched only by the loud vocal support of the crowd comprising grandparents, parents, club officials, coaches and fellow taekwondo members.
Many players were highly motivated and impressive. They displayed excellent techniques and tactics. On top of that, they seemed to have endless supply of energy to keep them going and going. The panel of selectors for the Best Performance Awards had a hard time picking the cream of the crop.
After some deliberation, they decided on Nicholas Wen Yan Hua (St Teresa TKD) and Isabel Rivas (J H Kim Millenia) for the male and female awards respectively.
The top three places for the male and female categories went to the following.
Junior
(Male)
1st J H Kim (Bt Timah)
2nd ACME TKD
3rd J H Kim (Serangoon)
Junior
(Female)
1st J H Kim (Millenia)
2nd J H Kim (Bt Timah)
3rd Zen Martial Arts & Fitness
J H Kim (Bt Timah) with the most number of gold medals won captured the Regional Grand
Champion title.
The Singapore Taekwondo Federation would like to put on record its appreciation to
Mr Lim Biow Chuan for taking time off from his busy schedule to support the event,
Nestle Koko Krunch for the generous support of the event which provided players with another platform to
test their skills and everyone at the championships free sampling of its delicious and nutritious breakfast cereals and
all officials, referees and volunteers for their contributions to the success of the event.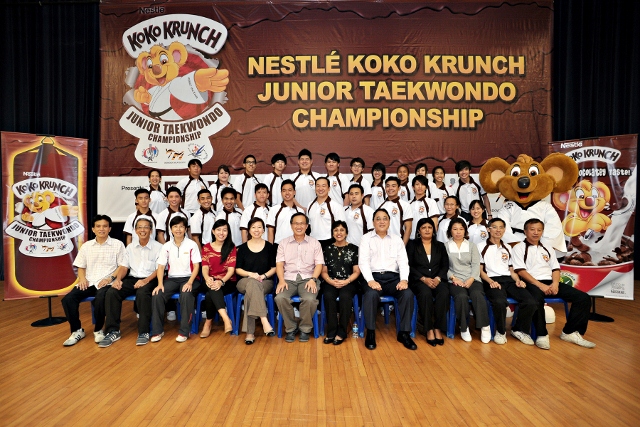 The other results are attached.