For the first time since the inception of the World Junior Taekwondo Championships, the Singapore Taekwondo Federation (STF) fielded a team for the competition which was held from 6 to 9 March in Tijuana, Mexico.
The STF decided to field four players who finished tops in their weight categories in the 14th Asian Cities Gold Cup Taekwondo Championships held slightly more than two weeks before the World event. They were Keith Ong, Christopher Lee, Tio Jia Xin and Zakirah Bte Zakaria.
Despite suffering from jet lag and having bad draws, they acquitted themselves well. The challenges were tough for them as that was their maiden experience in a world stage.
Jia Xin, who took on a Mexican, gave of her best. But her inability to find any weakness in her opponent caused her undoing. She lost 0-5 to a more experienced fighter.
It was touch and go for Keith. He lost narrowly to a strong opponent from USA. The 1-0 defeat did not show the tremendous effort he put in to even the score.
Christopher fought against a player from Cote D'Ivoire. He played the game well to lead most of the match. However, a lapse in concentration saw his down fall. The match ended at 9-12 to his opponent's favour.
Displaying the poise and confidence of an established player, Zakirah managed to escape the best kicks thrown by her Korean opponent. However, a slip ended her exploit in the ring. She twisted her knee and could not continue the match.
Said Team Manager Lee Thiam Poh: "Our players have performed creditably considering the quality of the participants here. I believe they could have performed better if they had come earlier like the other players had."
Singapore Flagbearers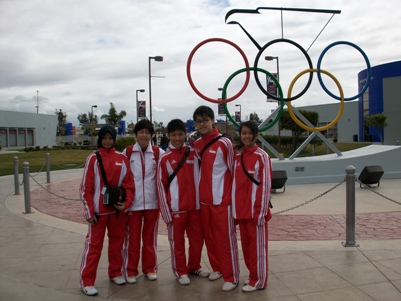 Head of Team : Mr Milan Kwee
Team Manager : Mr Lee Thiam Poh
International Referee : Mr Lim Teong Chin
Coach : Wong Liang Ming
Players (Male) : Keith Ong Jin Cong
Christopher Lee Jia Zhe
Players (Female) : Tio Jia Xin
Zakirah Bte Zakaria