On the invitation of Johor State Taekwondo Association, 18 players accompanied by 3 officials, 2 coaches, 2 assistants and 11 supporters boarded a bus on 12 November 2007 to Stadium Larkin, Johor Bahru for friendly matches.
Our players enjoyed the exchanges so much that some of them went for extra rounds.
Said Team Manager Robin Chow: "It was a fair contest. While some of the Johor players were stronger than ours, some of our players were better than theirs. To put it simply, we won some and lost some."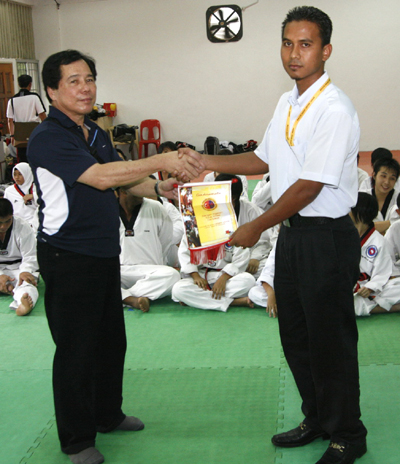 When asked for the score, Robin responded: "It did not matter the number of wins or losses. Most importantly, both teams had great time learning from one and other and the bond of friendship among us had been strengthened."
He added: "Our players are looking forward to the Singapore Taekwondo Federation (STF) hosting a friendly at the National Training Centre (NTC) in the near future."
Although it was only a friendly game, Mr Milan Kwee (STF President) and Ms Wong Liang Ming (STF Secretary and National Coach) were at the NTC to see the team leave for Johor. The team was obviously grateful for their morale support.