311 participants from 8 Asean countries – Cambodia, Indonesia, Laos, Philippines, Malaysia, Singapore, Thailand and Vietnam – congregated in Phnom Phenh from 7 to 9 April 2011 to stake their claims on the medals at stake for the poomsae and kyorugi competitions at the 10th Asean Taekwondo Championships.
The event, which was the first ever international taekwondo tournament organized by the Cambodia Taekwondo Federation, was supported by Asean Taekwondo Federation.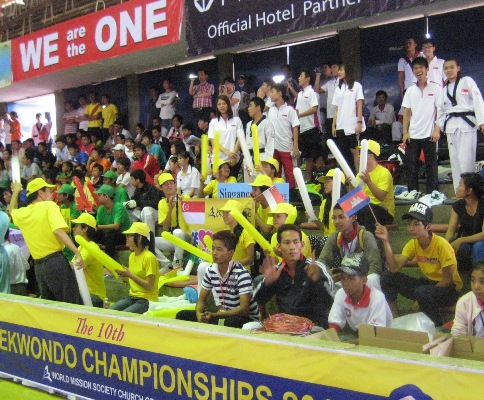 It proved to be very competitive as it attracted numerous outstanding players including two poomsae World champions.
Singapore did creditably to clinch 2 silver and 4 bronze medals for kyorugi and 3 silver and 2 bronze medals for poomsae. The medals came from the following.
Kyorugi
– Tio Jia Xin (Silver)
– Ng Ming Wei (Silver)
– Nurul Shafinas Bte Abdul Rahman (Bronze)
– Jacqueline Quek Jie Lin (Bronze)
– Raja Arshad Bte Raja Mahmod
– Muhammad Norhalim Bte Mohd Zahruddin
Poomsae
– Samuel Lee Wei Kang (Individual Silver & Pair Silver)
– Joyce Lim Soon Yi (Individual Silver & Pair Silver)
– Chelsea Ann Sim Shu Zhen (Individual Bronze & Pair Bronze)
– Kang Rui Jie (Pair Bronze)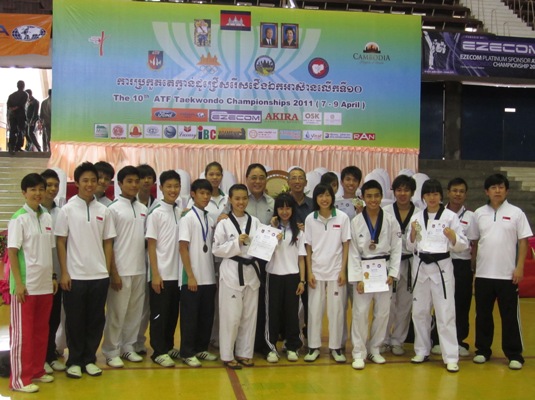 The championships were given lots of importance by the host. The event was graced by Deputy Prime Mininster of Cambodia at the opening ceremony. And Dr Thong Khon, the Tourism Minister of Cambodia, witnessed the competitions daily.
The next Asean Taekwondo Championships will be staged in Myanmar or Indonesia at the end of 2012 or early 2013.