The Singapore contingent for the 9th Asean Taekwondo Championships held on 5 and 6 June 2009 in Ho Chi Minh City, Vietnam returned with a haul of 2 gold, 1 silver and 9 bronze medals.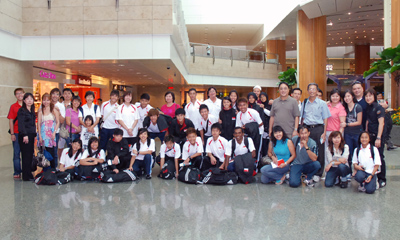 The competition attracted 9 teams from 8 Asean countries including taekwondo powerhouses in the region, Vietnam, Indonesia and Philippines. Vietnam fielded two teams for the tournament which consisted of both 'kyorugi' and 'poomsae'.
Our 'kyorugi' players sportingly participated in the 'poomsae' event for the fun of it. And they did not do too badly winning 3 bronze medals through the following.
Denise Thong (Senior Female Indidvidual)

Keith Ong and Tessa Tang (Pair)

Denise Thong, Tio Jia Xin and Tessa Tang (Female Team)

For 'kyorugi', Singapore players collected 2 gold, 1 silver and 6 bronze medals for their effort. They all fought tooth and nail to win. But, for some of the new players in the Singapore team, their opponents were just too experienced for them. Nevertheless, they had learned a lot from the exposure and it would stand them in good stead for future competitions.
The following clinched the 'kyorugi' medals.
Gold
Zakirah Bte Zakaria
Jacqueline Quek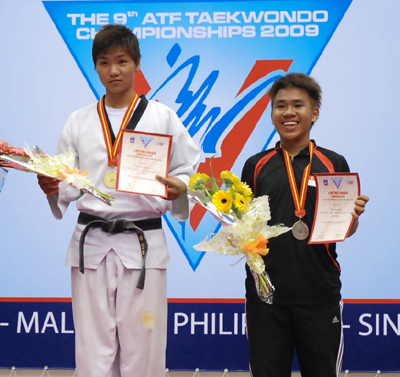 Silver
Bronze
Keith Ong
Wesley Ong
Samuel Lee
Tio Jia Xin
Geraldine Quek
Tessa Tang
Singapore Flagbearers
Coach : Wong Liang Ming
Players (Male) : Jason Tan Junwei (Captain)
Nicholas Lau Jun Yi
Benjamin Teo Zhi Ming
Muthiah Ponmani
Keith Ong Jin Cong
Wesley Ong Zhi Qiang
Wister Tan Jun Ray
Daniele Haadi Tan
Jordan Tay Jun Jie
Samuel Lee Tee Koon
Muhammad Norhalim
Players (Female) : Lanetar Quek Yi
Denise Thong Bai Hui
Tio Jia Xin
Geraldine Quek Jie Yi
Zakirah Bte Zakaria
Tessa Tang Xue Yi
Jacqueline Quek Jie Lin
Supporters : Mr Roland Ong
Mrs Janet Ong
Mr Dicky Ong
Mrs Christine Ong
Mr Jeffrey Tan
Mdm Katherine Lok
Mdm Nor Ainon
Mr Zakaria Othman
Mdm Norizah Bte Sanan
Miss Fadzlyn Zahruddin
(Photographs courtesy of Mr Dicky Ong and Mr Muthiah Ponmani)