The Singapore Elite Youth Taekwondo Championships held on 7 and 8 January 2010 at Suntec International Convention Centre was used by the Singapore Youth Olympic Games Organizing Committee (SYOGOC) to validate the venue and competition plan for taekwondo.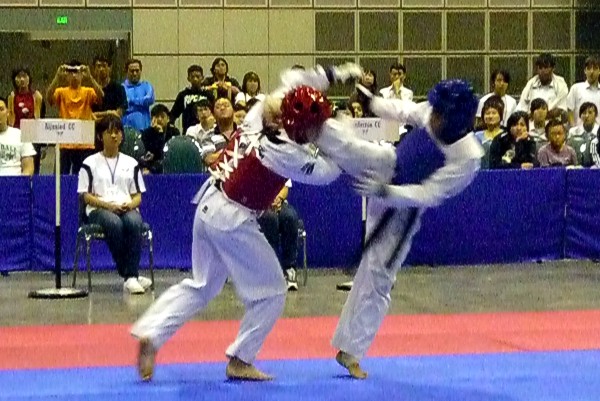 The event organized by the Singapore Taekwondo Federation (STF) Tournament Committee under the leadership of Mr Lee Thiam Poh, who is also the Competition Manger for the Youth Olympic Games taekwondo event, passed with flying colors. The SYOGOC was delighted with the outcome. It was confident that the taekwondo event for the Games would run smoothly come August 2010.
The tournament, featuring STF top youth players, proved to be as exciting as it was entertaining. It was befitting that the competition ended with what had been billed the best match of the championships. In the match, Christopher Lee Jia Zhe took on Muhd Norhalim B. Zahrudin.
Christopher capitalized on his reach advantage to keep his shorter opponent at bay. When Norhalim tried to bridge the gap, Christopher would punish him. But there were lapses in Christopher's defense. On those occasions, Norhalim would use his guile to slip in a couple of well-placed kicks.
The score went 3 a piece (including 1 point each earned by penalty) in the first round, 4-4 (including 1 point earned by Christopher for Halim's violation) in the second round and 6-5 (including one point earned by Christohpher through violation) in the final round. The one-point difference was chalked up by Christopher in the dying seconds of the game.
Halim was upset with himself as he would have won the match if he had not accumulated six warnings which were equivalent to 3 points for his opponent. Anyway, it was all in the game.
Medals for the two-day competition were given away by Mr Goh Kee Nguan, SYOGOC CEO, Mr Eric Tan, SYOGOC COO and Mr Milan Kwee, STF President.