The 2011 WTF World Taekwondo Championships staged from 1 to 6 May 2011 in Gyeongju, South Korea was a resounding success in more than one way.
The biennial event not only attracted a record number of participants – 1,037 players and 719 officials from 149 countries but also conducted smoothly with no protest. What's more, the results proved that taekwondo is now a global sport.
In the past, Korea, the traditional powerhouse of the sport, had no problem eliminating their opposition with their superior skills and strategies and clinching most if not all the titles at stake.
At the recently-completed championships, they had to fight tooth and nail against players from many countries. They won some and lost many – that is, only 2 gold, 2 silver medals for the men's division and 1 gold, 2 silver and 3 bronze medals for the women's division.
For the championships, Singapore fielded 3 male and 2 female players primarily to expose them to high-level competition. Among them were three junior players who performed creditably and demonstrated potential competing against their senior opponents on the big stage. All the players returned richer in experience which would stand them in good stead in their future international assignments.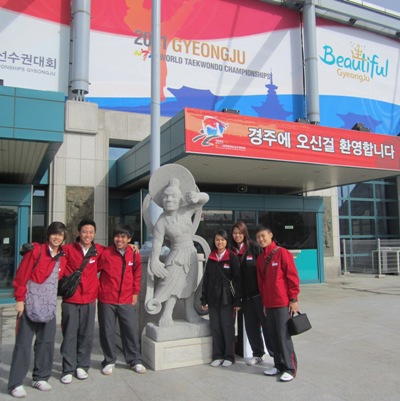 Considering the size, Singapore can that pride that three officials from Singapore Taekwondo Federation (STF) were appointed by the World Taekwondo Federation to officiate in the event. Among them was STF President Milan Kwee who was appointed as a member of the Competition Supervisory Board empowered to evaluate the performances of review juries and refereeing officials and act as the Extraordinary Sanction Committee.
Besides fulfilling his responsibilities, Mr Kwee took the opportunity to touch base with top officials from the WTF and other countries. He also represented Singapore at the General Assembly which was held a day before the start of the competition.