Singapore fielded five taekwondo athletes for the 26th SEA Games which were held from 12 to 15 November 2011 in Jakarta, Indonesia. All five returned with a medal to show.
The medals they won were as follows.
Joyce Lim (Silver in Female Individual Poomsae)
Samuel Lee (Bronze in Male Individual Poomsae)
Samuel Lee, Jason Tan and Muhammad Norhalim (Bronze in the Male Team Poomsae)
Jason Tan (Bronze in Kyorugi)
Jacqueline Quek (Bronze in Kyorugi)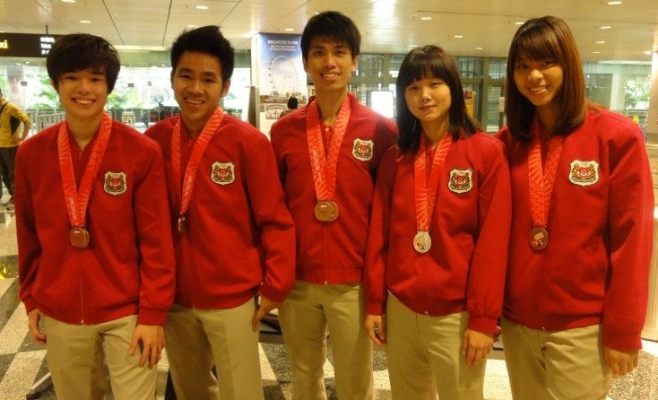 Jason became the first taekwondo exponent to win a medal in both the poomsae and kyorugi events.
The results were better than the last SEA Games in Laos where we finished with two bronze medals. They were also creditable considering that quite a number of sports with many more representatives returning with fewer medals.
The Singapore Taekwondo Federation (STF) nominated 4 poomsae performers and 6 kyorugi players. Only 2 for poomsae and 3 for kyorugi were selected despite all the nominees having under their belts international medals. It was really sad because some of the potential medal winners including the 2011 best school sports boy were not selected.
The STF felt like it was going to 'war' with its limbs chopped off. Not only that, some of the players who had been dropped had decided to focus on their studies instead of competing for a place in future international competitions.
Looks like the STF will have to start from base to build a new team with the remaining current players for the next Games in Myanmar.
With the support of its affiliates, the STF is confident that it can overcome the challenges!
The STF is prepared to invest on potential players who are interested to train full-time. Please email the STF at stf@singapore.com to nominate the players for the Management Committee to consider.
Singapore Representatives:
Singapore Supporters: