Johnny Ang Yow Hua, 78, and Wong See Fook, 83, proved that taekwondo is a sport of life. Besides honing their skills regularly by themselves, they enjoyed training with members of TEAMgOLD every Sunday at the National Training Centre.
At their advanced age, they inspired many of the other younger participants with their energy and enthusiasm during training. Most of all, they showed an insatiable appetite to learn more.
Yow Hua and See Fook certainly deserved respect because they could not only perform the various sparring tactics and techniques and poomsae movements almost effortlessly but also outlast some of the 'younger' trainees.
Guests at the Singapore Taekwondo Federation (STF) Anniversary Dinner on 21 June 2014 were privileged to watch a scintillating and entertaining performance by the two oldest taekwondo practitioners in Singapore.
In recognition of their technical ability, Yow Hua and See Fook were promoted to 6th and 3rd dan respectively on 7 October 2014. They received their promotion certificates from Mr Milan Kwee, STF President, at the STF Secretariat.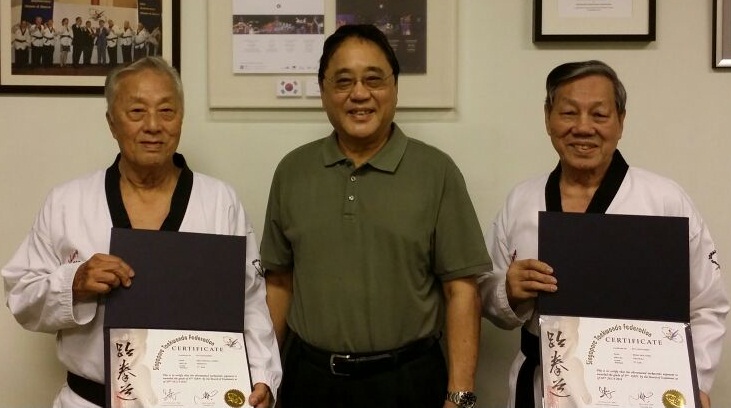 Congratulations to Yow Hua and See Fook on the promotion. The taekwondo community is proud of both of you.