15 children from the Assisi Hospice were featured on several television news broadcasts on 17 February 2007 for using taekwondo as a form of therapy for their cancer
The taekwondo programme sponsored by the Singapore Taekwondo Federation (STF) has not only helped in the participants' therapy but also contributed to their developing new skills which they enjoy doing.
Said Petra Anna Jasmine: "I love doing all the kicks and punches because I am a taekwondo warrior."
That was well said as it represented the feelings of the other taekwondo warriors.
More importantly, the warriors did everyone, including their parents, proud with their awesome display of skills during the filming for the broadcasts.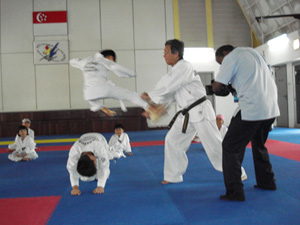 They demonstrated various 'explosive' techniques and broke planks in a manner that belied the relatively short training they had. From their performance it was hard to believe that the martial art was only introduced to them about four months ago!
Mr. Milan Kwee, President of the STF, said: "The warriors are an inspiration to even the able-bodied exponents of taekwondo."
One of them must be Sister Linda Sim, a Catholic nun from Franciscan Missionaries of the Devine Motherhood, who hung up her blackbelt 30 years ago. When she saw the kids in action during their training, she 'dusted' her belt and made a comeback.