Thanks to the co-operation and the support of 80 primary and 58 secondary schools, the National Inter-School Taekwondo Championships staged from 27 to 30 April 2010 at Bedok Sports Hall were a resounding success.
The championships were conducted smoothly and safely and saw not only an increase in the number of participants but also an improvement in the performance standards.
What's more, there was an outstanding display of sportsmanship among the coaches and participants. They lived up to the Singapore Taekwondo Federation competition code which is to compete with spirit, win with humility and lose with dignity.
Five special awards were presented during the prize presentation ceremonies. There were as follows:
   Best Coach (Primary)  :           Lee Kwang Peng
Best Rookie Referee  :   Muhd Adnan Abdullah
Best Kyorugi Player (Sec)  :  Keith Ong Jin Cong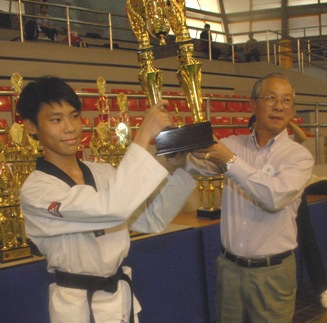 Best All-Round Player (Sec) : Kang Rui Jie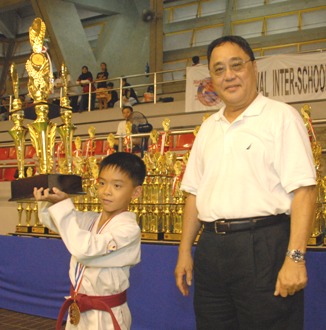 Best Fighting Spirit  :  Ethan Wintson Sum
The selection of the best coach award was the easiest as Kwang Peng stood out above the rest. Here are some examples of what he did which many coaches can do well to emulate.
When points were scored by his players and his players' opponents, he clapped;
When an opposing player was winded, he showed concern;
When he felt that his player could not handle his opponent, he threw in the towel; and
Win or lose, he accepted the decision with a smile.
The overall results are attached. The detailed results will be posted later when they are available.